Padma Shri RN Zutshi Memorial Medal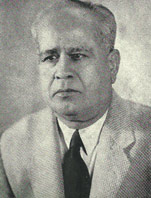 Mr. R N Zutshi was the first Indian to be appointed as the Principal of The Daly College. When he took over from D F Jack in 1956, he had already served at the Daly College for thirty four years. A student of St. John's School and St. John's College, Agra, he was appointed Assistant Master in 1922. He was promoted to Housemaster in 1943 and to Headmaster in 1948. He was well travelled having visited China, Japan, Malaya, Europe and England, was a good sportsman and was known for his great energy and sense of humour.

Mr. Zutshi was not only involved in his work at Daly College but also found time for public work. He was in 1958 nominated as a member of newly formed Municipal Corporation of Indore. From 1960 to 1962 he served as Deputy Mayor and in 1963 was elected Mayor. In 1957, he was involved in the selection of Government of India Merit Scholars. He played a role in the formation of the CBSE and, as he encouraged the foundation of a University in Indore, in 1964 he was nominated on the Court of the University. In the same year he became President of the IPSC and in 1965 was awarded the Padma Shri. He passed away on the last day of term in April 1968.

His daughter, Sulekha Zutshi, instituted Padma Shri R N Zutshi Memorial Medal in 1997 in the memory of her late father. The Committee comprising of the President Board of Governors, Principal, President ODA and Secretary ODA decides every year to confer the medal to an Old Dalian for outstanding contribution in any field of activity like industry, business, management, Public life, social service, diplomacy, defense services, medicine, science, research, education, engineering, sports, visual & performing arts, the media etc.
Recipients of Padma Shri R N Zutshi Memorial Medal :
| | | |
| --- | --- | --- |
| 1 |   Raja Digvijay Singh Raghogarh | 1997 |
| 2 | --- | 1998 |
| 3 |   Shri Lakshman Singh | 1999 |
| 4 |   Dr. C S Ranawat | 2000 |
| 5 |   Dr. Sudhir Khetawat | 2001 |
| 6 |   Shri Raj Singh Dungarpur | 2002 |
| 7 |   HH Bhanu Prakash Singh Narsingarh | 2003 |
| 8 |   Prof. Prabhat Patnaik | 2004 |
| 9 |   Mr. KK Bhatnagar | 2005 |
| 10 |   Mr. Deepak Obhrai | 2006 |
| 11 |   Late Mr. Hanumant Singh | 2007 |
| 12 |   HH Maharaja KS Rathore of Sitamau & Dr. Dhiraj Bora | 2008 |
| 13 |   Mr. Manish Kalani | 2009 |
| 14 |   Mr. Rampratap Singh | 2010 |
| 15 |   Mr. Khanindra Barua | 2011 |
| 16 |   Mr. Vikram Rajadhyaksha | 2012 |
| 17 |   Mr. Gajendra Singh Sareen | 2013 |
| 18 |   Mr. Rahul Patwardhan & Mr. Saeed Khan Malek | 2014 |
| 19 |   Mr. Harish Chandhok | 2015 |
| 20 |   Mr. Arun Yadav | 2016 |