The College Coat of Arms
Coat of Arms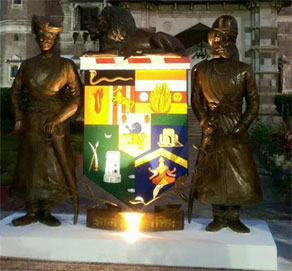 The Arms represent the main section of the Central Indian Community Maratha, Rajput, Bundela and Mohammedan. The arms have been devised in great measure from those given to chiefs on the Delhi, banners of 1877.

1st Quarter - Tenne' is the nearest Heraldic colour to bhagwa', the colour of Maratha standard and of Shaivite devotee: the wings and flame represent the Pawars, who derived descent from the Parmars, the world- wide Sovereignty of clan being proverbial (Wings), while they were also Aganikulas (Flame), the play of 6 argent and gules gives the well known Holkar banner, while the horse of Khandoba is their emblem, the chief azure is for Scindia, and the cobra is the mark of the house.

2nd Quarter - A Barry of fives is the Pachranga of the Rajputs: the sun representing the Suryavanshis and the moon the Chandravanshis, the flame the Agnivanshis.

3rd Quarter - Green is the mohammedan colour and the crescent their badge: the tower represents Bhopal and its fort of Fatehgarh, the spear and 'talwar' the Pindari element, and the fish, the Mani Martib- the sacred emblem.

4th Quarter - Purpure or murrey is given to all Bundela Arms, the Chevron 'gutty de sang' refers to the traditional origin from 'bund' a drop, the fort on a hill to the famous Ath-kot of Bundelkhand, and to the Vindhyas whence also (Vyandhyelkhand) they derive their name: Devi Vindhyvasini of Mirzapur is the Tutelary goddess of the clan.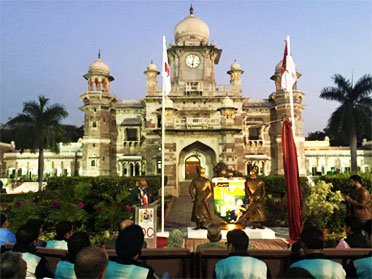 The Daly arms are commemorative of General Sir Henry Daly, from whom the College derives its name. All these symbols of different states are brought together by a common motto 'Gyanameva Shakti'.
The Supporters
On the right a Maratha prince and on the left Rajput Prince. Below the barley refers to Bundelkhand and the poppy to Malwa, thus designating the east and the west of the Region.