Round Square International Service Project
RSIS BIG BUILD TANZANIA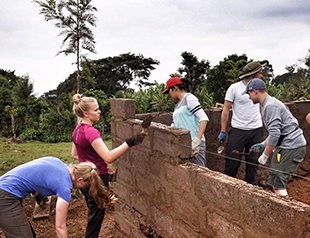 This year Round Square had organized a service project in Marangu, a village in Tanzania. There were 50 of us from all over the world along with 8 adults. We were supposed to build an entire classroom, a kitchen and make the flooring of two other classrooms of a primary school that was a half an hour hike from our campsite.We had also built a little garden and we painted the classes with alphabets and other objects that helped understanding numerals. We also sanded the desks and varnished them for the new classroom we were building.

I had never been camping and would not classify myself as a good source of power but that was until I got a taste of this wonderful experience. Yes, it is difficult all the heavy brick and rock lifting, making cement with shovels, carrying buckets of water from a stream that was considerably far I'd say, hiking up to the worksite twice a day, it was difficult indeed but amidst all this working, being surrounded by people coming from different corners of the world with so many stories to tell really made things interesting. Interactions during this trip were very special, not because of the diversity but because of the way in which they took place. Since we were in a rural area of a not so developed country there was no way to connect with others outside of our campsite and I found no reason why we would even have to.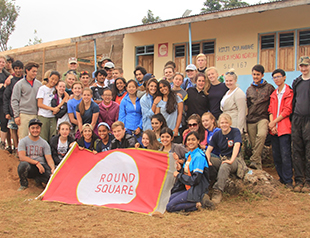 Sure life without Wifi or a SIM to people nowadays sounds like a wreck but its really not when you're indulging yourself into something so productive and having interactions in a way that you possibly had during a time you won't even remember. That time when you were in a state of mind of the actual present. Not thinking about what was going on when and with whom it feels really good, to just be in the present and input only the actual things in front of you. So apart from the time we spent working, we had conversations; we played and even invented games to keep ourselves entertained. Cards became the ultra resource of the trip. From making chess pieces out of bottle caps and a chess board using a marker and paper all of this has given me so much that no words of mine can ever make anyone understand how I felt then and how I feel now. I've made friendships like no other, friendships from those new conversations that occurred while we washed our own clothes and waited for our turn to get the hot water from the tumbler that was heated over firewood everyday.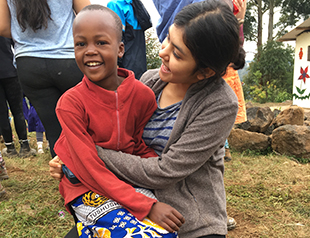 The word amazing cannot justify just how fantastic this trip was. I've really enjoyed that new phase of life I had. Living in tents, seeing Mount Kilimanjaro everyday on my hike through the fog, having the trouble of clothes not drying because of the rain and the sunny days becoming the motivation for us to wash as many clothes as possible, being able to talk and play with the kids of the school we were building our project for. Honestly I'd say all of us were very lucky to be able to see and interact with those children who had the purest hearts of all, who make toys out a plastic rings and metal wires, it gave me the satisfaction after carrying that brick that I complained about being too heavy, one look at those happy faces made me realize, it was all worth it.
LADAKH 2017 REPORT
The best way to find yourself is to lose yourself in the service of others." With this notion in our minds and rucksacks taller than us, two people namely, Ria Chordia and I Aanvi Agarwal left Indore on the 25th of June, 2017 for a 15 day round square service project in Ladakh. The project was led by Mr. Vishesh Sahai of Scindia School, Gwalior who gave us a heart-warming welcome.We reached the beautiful place on the 26th and had an ice breaking session along with some documentaries on Ladakh. We visited the Shanti Stupa and Nammangal monastery the next day which was exhilarating and rejuvenating.

The following day, we were taken to the Lamdon Public School where we were supposed to construct two rooms which was the target of the venture. After setting up the camps we were ready to be introduced to the work that we were meant to do. To make our work efficient and we were divided into six groups, each headed by a teacher. After two days of the tiresome work of passing bricks from one end to the other by the human chain, we shifted to various other tasks like carrying sand and twigs, called talus in the native language, mixing the mud and water and then finally stacking it all up. We had intense work sessions for 7 days with 3 shifts every day. The work required intense labour and determination which was made easier with the idea of service in our minds and the will to work for those kids in our hearts.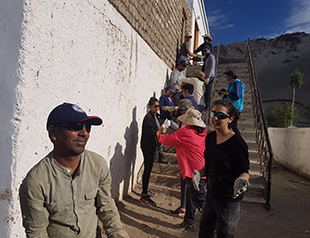 Each day one of the six groups had their domestic days where we cooked and went to interact with the students of the school and played several games with them. On the 2nd of July, we visited the Pangong valley, the most awaited day of the trip. We crossed the Chang La pass at 17000 feet (the second highest in the world). During the 4 hour drive where we also stopped at a frozen lake for our meal after which we finally reached our destination. It was simply breathtaking. Words cannot truly describe the beauty of the lake. It was like heaven on earth. After having a pleasant lunch by the captivating lake we returned.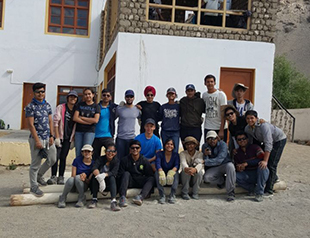 We finally completed building the room on the 5th and were heartbroken to leave the school and the kids. They put up a cultural event for us which energised all of us by looking at their smiling and happy faces and finally with a bitter sweet joy we bid them good bye and left for the second part of the trip. On the 6th, we met The Dalai Lama on his 82nd birthday and got a different kind of spiritual energy from him on that blessed day. We interacted with him and after that headed towards our destination for the trek. Nature was simply at its best and couldn't have been any better with the essence of being in Ladakh itself. The next day we suited up for a 9 hour trek to the summit at 16000 feet. Out of 34 delegates 15 reached the top. It was an exceptional experience and completely different in its own way. From rocky terrain to green stretches of land, from dry field to snow capped mountains, we somehow reached the peak. The enthusiasm, eagerness and belief that we could complete it took us there. It was exhausting but the satisfaction and joy was undoubtedly greater than all of the struggles. On the last day, at the hotel where we finally got rid of the Ladakhi toilets, we were crestfallen to say our goodbyes because the bond we formed seemed unbreakable . The staff at the hotel arranged a local Ladakhi dance event for us to enjoy and appreciate. At the debriefing session we shared our personal experiences and our love for each other that ended with an additional 100 pictures in our galleries.Our personal takeaways were that of confidence, imperishable bonds, satisfaction, the feeling of being privileged and the contentment of serving others. No amount of gratitude ushered can justify our feelings. It is rightly said that good days are to be gathered like grapes, to be trodden and bottled into wine and kept for ages like memories to sip at ease beside the fire. This was certainly a memorable and life changing trip. Thank you!
July 27 – August 10, 2016 ,Peru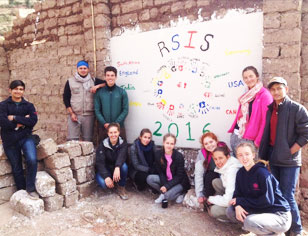 The team comprised of 15 students (11 girls & 4 boys) and three staff who together represented seven different nationalities from 11 different schools in seven countries. Vrashabh Doshi represented Daly College. The students came to the project with determination and good spirits and were ready to embrace their new experiences in Peru. As all students do on these projects, they bonded quickly and were a supportive team to each other through the highs and lows.

This RSIS Project (Team Condor) was a 15 day trip to Peru that involved both service and cultural activities. Cultural activities included learning about Andean art and learning to play Andean music, completing a Via Ferrata climbing activity and descending using ziplines, a celebratory cultural performance including dress, music and dancing, and learning to salsa dance.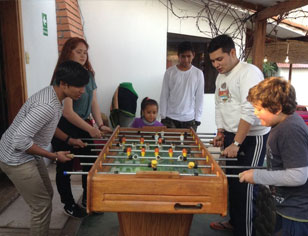 The trip concluded with a full day at Macchu Picchu, exploring Incan culture, practices and architecture and some shopping in Cusco. In addition, during the service project, students lived with families in the community and were exposed to local foods, farming practice (including cuy (guinea pig) farming, planting barley and corn), and both Spanish and Quechua languages. Living conditions were rustic: students camped in tents, in common areas or pasture of the families, ate in mudbrick houses with dirt floors, and had only cold running water with no showers during the time in the village. The families provided hot water for sponge bath/bucket showers as the students desired. Breakfasts and dinners were eaten with the families, where students were exposed to the standard limited menu of the Andean people. Students on the project also got to play games and cards with the children and families of the village.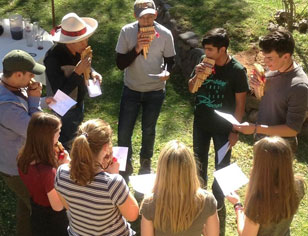 During the service project, students were helping to build a school using techniques like making, smoothing, carrying, stacking and transporting mud bricks, helping to carry and haul wood for rafters, building rafters, digging dirt to make mud, and stomping, mixing, hauling and shovelling mud. It was hard physical labour on the project site.