The Founder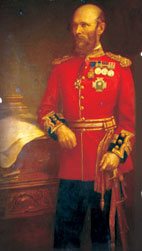 Sir Henry Dermot Daly was born at Kirkee, near Poona, on 25th October 1823. His father, Francis Dermot Daly, was a soldier and served in British Indian from 1821 in the 4th Light Dragoons.

Sir Henry Daly was a keen student of history and delved into the history of the States of Malwa region. His cheerful and pleasant disposition won him the friendship and confidence of the Chiefs of Malwa States. In 1870, he took up the appointment of Agent to the Governor General which he held until he left India eleven years later. Towards the end of 1889, he suffered a serious injury in a fall while riding and never fully recovered. He died on 21st July 1895. As a person he was simple, unaffected and conscientious and had been twice recommended for the Victoria Cross, the highest military honor in Britain for gallantry in battle.

His legacy to India was in the form of a modern British type school to educate the Princes of the then States of Central India. He instituted the Residency College at Indore and closely monitored its progress. After his demise, the Chiefs of the Central India States proposed to commemorate in some visible and substantial manner the services which he had Daly College was constructed as a huge, magnificent white he had rendered to the region. Consequently, in 1906, the new Daly College was constructed as a huge, magnificent white marble building (in Indo-Sara scenic style of architecture) by the Public Works Department in the center of a 118-acre campus, the land for which was presented by the Holkar State for the purpose.
Founder of Daly College
General Daly from the very first had evinced a great interest in education. He instituted the Residency College at Indore and paid close attention to its work and progress.

He took a leading part in the discussion, which resulted in the foundation of the Mayo College at Ajmer. There is hardly a state in Central Indore, which does not point with pride to the schools and colleges that owe their origin to his initiatives.

General Daly was a man of action himself; it was one of his well-known saying that "a political officer who could not jump on a horse and ride fifty miles when duty called him wasn't worth keeping".

It was in February 1881, that General Daly finally left India. After his departure a monument was set on foot by the chiefs of Central India to commemorate n some visible and substantial manner the services rendered to the province.

The Residency College at Indore was conducted in somewhat meager and inadequate buildings and it was felt that the provision of better accommodation would be an appropriate tribute to the memory of one who had been a pioneer of education in India. Subscriptions flowed in and in due course a handsome building bearing the name "The Daly College" and containing a full suite of classrooms was erected in a good position about half a mile from the residency.

All who are in a way connected with the college are proud to have such a Founder to look up to. His whole life was an example for all to follow.