Counselling - Career
Career choices are never easy! Truly, choosing a career that matches your abilities and aspirations is one of life's most difficult and important decisions. Don't know what career is right for you? Or, what options are open to you? How to qualify? What courses to choose?
Most great things begin with a plan. So career should be no different. A plan will give the students something to work towards. It will also help them make the most of the opportunities that come their way. Career Counselling provides advice on how to choose a career that is right for a student.
The objective of the Career Counselling and Guidance Programme is to identify personality strengths, talents and interests of the students. This facilitates subject selection and creates awareness about career opportunities and further enables students to make informed choices relevant to the current scenario of opportunity and change.
Career guidance and counselling services occupy an important place in educational context as well as in behaviour modification in children because of their varied personal problems as well as educational needs. Therefore Daly College gives utmost priority to guidance and counselling and ensures that children grow and develop to the full extent possible.
There are academic counsellors in the school who assists students in all the domains of life –viz. academics and personality development.
Tie up between The Daly College and Institute for Career Studies, Lucknow (ICS)
The Institute for Career Studies (ICS International) established in 1985, has an international presence and experience of over two decades in providing career guidance and counseling services as well as conducting a broad spectrum of educational and training programmes. Their motto is Career by Choice, not Chance.
Headed by Dr Amrita Dass, a renowned educationist of international fame and recently been awarded "Woman Achiever" by Tata Consultancy Services (TCS). Her role has been instrumental in revolutionizing the process of career counselling in India.
The comprehensive programme of ICS, Lucknow encompasses the following process for the DC students of classes IX and XI
Aptitude Tests usually are conducted in the month of November. Seminar for Parents, students and Individual counselling in the first week of February.
Details of the Programme
Holistic profiling of the students based on the following:
Aptitude Test
Personality strengths
Self-Introspective exercises
School performance – academic and co-curricular
Interactive Seminar and multimedia presentation on:
An understanding of the educational and career trends
Discussion on different subject combinations and their scope
Developing a 'smart mind and a smart personality'
Individual Guidance
Seminar for parents on their crucial role in empowering their children
Detailed report for each student:
The report highlights the recommended subject choices
Ongoing follow - up and value added services
Website of ICS Lucknow: www.icscareersonline.com
Career Counselling –
International Universities -
A wide variety of university admission tutors from Canada, US and Britain visit the Daly College visit Daly College.
Atlantic Canada has a long and proud tradition of excellence in education and has been a learning destination for over two hundred years. Canada's first English-speaking schools and universities were founded in Atlantic Canada. Today, faculty and students come from over 100 countries to work and study, in both English and French, in the region.
The largest ever delegation consisting of 13 universities (list given below the email) from Atlantic Canada Opportunities Agency (ACOA) came to India to foster partnerships and goodwill with top Indian high schools. The delegation interacted with educators and conducted awareness sessions for students about education in Atlantic Canada.
The session at Daly college was a platform for students to understand about the educational opportunities for the Indian students in Atlantic Canada. The universities which were present offered courses in bachelors in Engineering, IT, Hospitality, Economics, Political Science, Film, Fine Art, Photography and more.
List of universities:
EduNova
Acadia University
Nova Scotia College of Art and Design
Dalhousie University
University of Kings College
Saint Mary's Univeristy
Cape Breton University
University of Prince Edward Island
St. Thomas University
University of New Brunswick
Mt. Allison University
Memorial University of Newfoundland
Mount Saint Vincent University
St. Francis Xavier University
SOME CANADIAN UNIVERSITIES VISIT DC: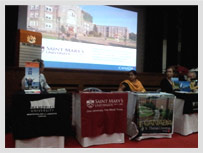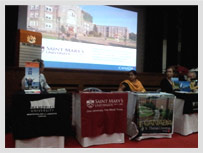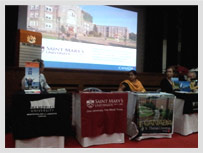 Some US universities that visited DC were:
Academy of Art University
University at Buffalo – State University of New York
University of California
RiversideSaint Louis UniversityConcordia
UniversityPacific UniversityUniversity of
California Irvine - IUPPSavannah College of Art and Design
University of Alabama at Birmingham Hawai'I
Pacific UniversityMiddle Tennessee State University
University of South Carolina Kendal College
DC and its Ties with British Council
British Council brings to DC the 'Education UK School Mission, 27 Aug 2013'.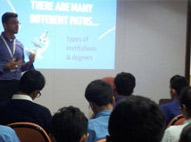 Delegates from 12 UK institutions visited DC. This was an exclusive opportunity for dalians to make contacts and collect information to help them decide where they would study next so that they can be prepared for better future.
Visiting UK institutions:
Durham University
City University London
Anglia Ruskin University
Sheffield Hallam University
The University of Northampton
The University of Nottingham
University of East Anglia
University of Southampton
Aston University
University of Birmingham
University of South Wales
University of Glasgow
BRITISH COUNCIL conducted a workshop for counselors. Teachers and counselors of other schools of Indore also attended the workshop.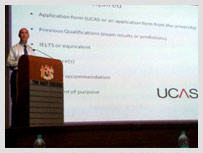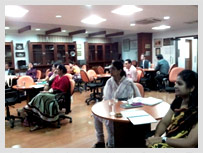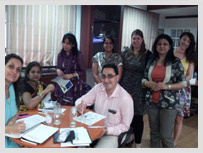 * "Our official Career Counselling' partner Institute of Career Studies, (ICS) Lucknow whose contact nos. are 0522- 2325105, 9335233873, 9335912616 . However on a request that has been made to us, we are also providing details of another counselling services which we are not partnered with."