Tennis 2020
The 150 th Anniversary Open Tennis Tournament – 2020 was organised from Feb. 03 to Feb. 07, 2020 at Daly College, Indore. On Feb. 03, 2020 the tournament was inaugurated by the Principal, Daly College Mr. Neeraj Kumar Bedhotiya.
A total of 135 players from Indore participated under four categories, i.e. Mini Junior and Sub Junior for Boys and Girls and they displayed their sporting skills, by winning the hearts of many. This tournament has witnessed some wonderful little champs creating magic on the courts and therefore they deserve a special mention here.
Reet Arora in Mini Junior category won many hearts by the excellent display of skill & endurance while maintaining exceptional self composure on the court. Vivaan and Rehaan also exhibited amazing talent through their game. 6 out of 8 finalists were Dalians in all categories.
Winners of Special Prizes of the Tournament -
Prizes for the High Intensity Tennis player won by
Samarth Bhargava from DPS, Indore.
Arush Jain from Shishukunj International School, Indore.
Prize for The Future Champions player won by
Hussain Safi from Advance Academy, Indore
Prize for The Rising Star player won by
Atharv Palod from Choithram School, Manikbagh, Indore
Prizes for Most Improved Player won by
Gargi Singh from Millinium School, Indore and
Rihan Malik from Daly College
Winners of various categories are as follows:-
U-12 Mini Junior (GIRLS)
Vibha Khadka - Winner
Reet Arora - Runners - up
U-12 Mini Junior (BOYS)
Vivaan Bidasariya - Winner
Shourya Khandelwal - Runners - up
Sub Junior (Girls)
Pehal Kharadkar - Winner
Bhooka Bhalla - Runners - up
Sub Junior (Boys)
Vivaan Gautam - Winner
Manvardhan Rakhecha - Runners - up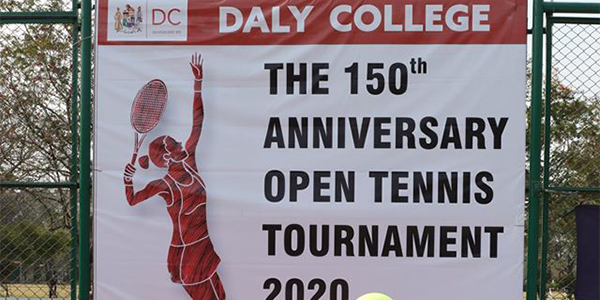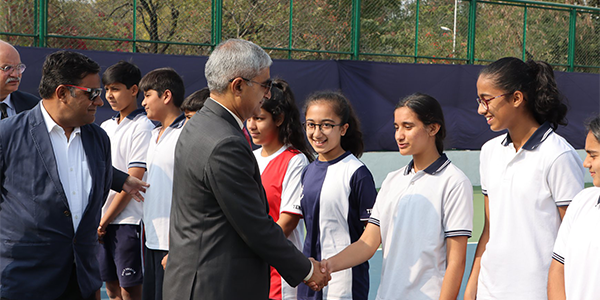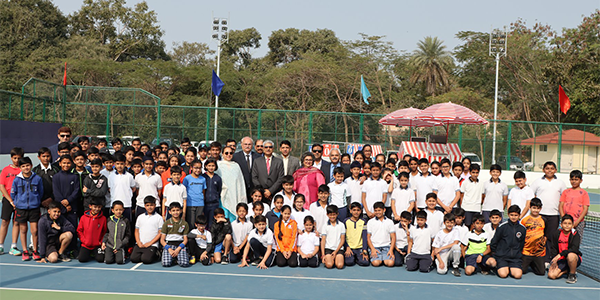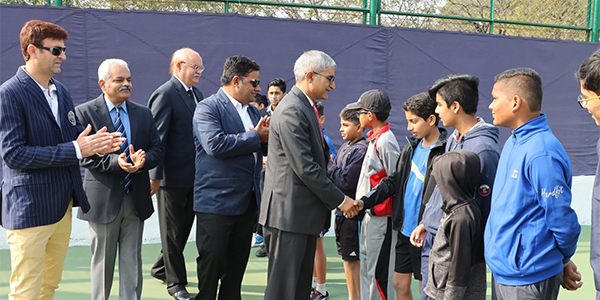 The Closing ceremony was held on Feb. 07. 2020. Chief Guest for the Ceremony was Director - Airport (Devi Ahilya Bai Holkar Airport, Indore) Mrs. Aryama Sanyal and the Guest of Honour was Mr. Sharik Malik (M.D. Synergy Optics).
---
Tennis 2019
Vivan Bidasaria & Reet Arora winner of Sub-junior tennis championship held at NDPS.
The tennis court at the school remains the favourite rendezvous for not only the present Dalians but also old students and senior staff members. The school has recently come up with a galaxy of new deco turf tennis courts which were inaugurated by International star Mahesh Bhupati.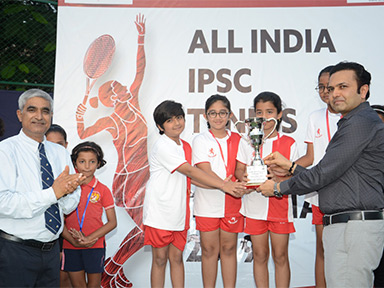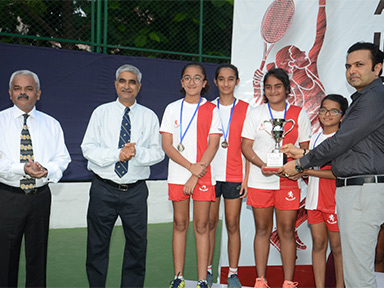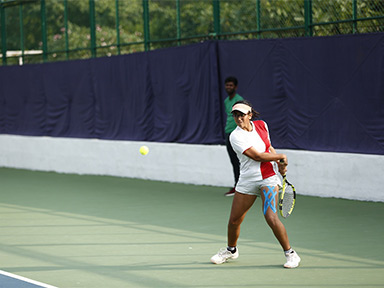 IPSC Tennis Championship 2019
The All India IPSC Tennis Championship (Girls) -2019 was organized between 6th October to 9th October 2019 at Daly College, Indore. 172 girls from 16 school from all over India, participated in the championship.Team matches as well as individual matches were played under 12,14, 17 and 19 categories.
This tournament has witnessed some of the ace players like Mahak Jain of Daly college, who is an internationally ranked player, Amishi Shukla of Daly college, a top ranked AITA player, Riya Sachdeva of Modern School who is India's top seed tennis player, and Sukhmanni Bhandari of Modern School, who is India's 12th seed player.
Team Results
U-12
WINNER - D.C. INDORE ( In the team matches, in U-12 category, D.C. played against RKKGPS, Jodhpur and won by 2-0 )
U-14
WINNER - Modern School, Delhi. (In the final match played between Modern School and D.C.was won by Modern school by 2-1)
U-17
WINNER - D.C. INDORE (In the final team match in U17 category, D.C. played against Mayo College Girls' School and won it by 2-0)
U-19
WINNER - D.C. INDORE (The final match in U 19 category D.C. played against Modern School and won the match by 2-1)
Individual Results
U-12 Winner : Reet Arora, Daly College
U-14 Winner : Vedika Shridhar, Emerald Heights, Indore
U-17 Winner : Amishi Shukla, Daly College
U-19 Winner : Mahak Jain, Daly College

Mr. Akash Tripathi, Divisional Commissioner of Indore was the chief guest for the closing ceremony.