Campus – Salient Features
Founded: 1882, Area: 118 Acres
Secular
The School believes in total secularism and respects all religions. There is a temple and also a mosque built in early last century but attendance is entirely voluntary and open to all communities.
Temple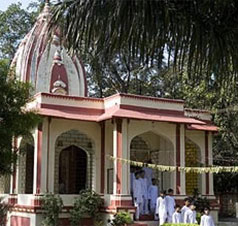 The college temple was built by the Indore Durbar and was funded by His Highness Charkhari. His Highness the Maharaja of Udaipur gave the "Murtis" for the temples. It was opened on 28 August, 1910
The temple of DC was built in the Malwa style. The beautiful idol of Radha –Krishna over whelms the eye. The temple is looked after by pujari Ram Kishore Pandey and Sahej Ram.
The temple is open every day in the morning as well as in the evening. On festivals and special occasions, functions are organized in the temple.
Mosque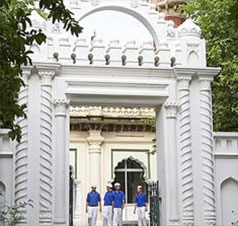 The College Mosque was built by Her Highness the Begum of Bhopal and was opened on 19 December, 1910.
The College Mosque is one of the most beautiful buildings in school campus. It is located in the northern side of the campus and faces the west. It is very beautifully designed with very good interiors. The top of the Mosque has four big domes, which are like the four minars of the Mosque. As you enter the Mosque, you will come across an open passage way and then enter into a big hall where you can see many wall hangings which depict the pictures of the holy place like Mecca and Medina. There are also few small rooms, which are used by the people who come to the Mosque to get ready for a prayer, which is called Namaz. Every day Muslim students and teachers come to the Mosque to perform the holy prayers. On every Friday, almost the entire Muslim community of the campus assembles at the Mosque to do the special prayer. On each Friday, all the students and teachers perform the special prayer, which is lead by the Pesh-e-Imam. The Pesh – e –Imam of the college Mosque is Maulana Sultan Ahmed. The in-charge of the College Mosque and its activities is Mr. A.S. Ansari and Mr. Saif Siddiqui is the Assistant In charge.
Discipline
The Daly College lays emphasis on self-discipline. Corporal punishment is not permitted.
Value System
Parents should be aware before registering their children that the Daly College lays great emphasis on Indian values and culture. There is a strong philosophy of tolerance, honesty, non-violence, courtesy and respect and these traditions are greatly valued in the community. A child who is unable to conform to the community's ethos will be asked to leave.
Self Governance:
The students are involved as Prefects, Captains, Vice Captains and Class Monitors, as Assistant Editors of the school publications, as representatives on the Student Council, the Games Committee, the Round Square Committee, the Social Service League, the Mess Committee and clubs like Green Club. These facilitate them develop a lot of sense of ownership and commitment towards system.
Student Composition
As the first Chiefs' College in 1870 and subsequently as a founding member of IPSC in 1939, DC is committed to uphold the aims & objectives of its founding fathers. The Daly College has never been seen as a neighbourhood school but been acknowledged as a national school with moral obligations to its neighbourhood as also to the less privileged. DC is expected to replicate at micro level the composition of our nation, in terms of regional, ethnic, social, financial and professional diversity.
Educational Facilities
The school promotes coeducational day cum residential facility. Day boarders are admitted from Nursery to III while boarders are admitted from class IV upwards.
Term Dates: The academic year starts in March/ April.
First Term - June to December
Second Term - January to April
Medium of Instruction : English
Academic Languages
The academic languages taught are English, Hindi, Sanskrit, French and German. Sanskrit / French / German is offered as 3rd language from grade VI- VIII. Hindi / French is offered as second language up to grades IX & X. XII onwards the language offered is compulsorily English.
Streams offered in Grade XI
Science, Commerce & Humanities are offered as subject streams in grade XI.
Administration
Academic activities are monitored by the Principal, Sr. Vice Principal, Dean Academics and Class Teachers. They are assisted by heads of Departments in respective subjects. In addition there are coordinators for different grades.
The Junior School
The Junior School (I-VI) has a Headmistress, Dean Jr. School, Heads of Departments and Coordinators for grades I to III. Monitoring of student performance is an ongoing process throughout the year. Parents are encouraged to interact with the staff at all levels and on a monthly basis.
There is a Pre-Primary section (Nursery to UKG) and is headed by a Dean
Educational Aids
1- The school has computer aided learning facilities in classrooms in addition to well equipped laboratories for the sciences, computer education and geography.
2 - Computers with Internet facilities are available in the library and the student houses.
3 - The school has fully fledged laboratories for Physics, Chemistry, Biology, C++, Web-Tech, IP, Geography, Math and Language.
Communication Skills
A lot of emphasis is laid in developing communication skills of students. This is facilitated through a large number of debates, public speaking & presentations at Assembly. Dramatics is an added feature to hone up speaking skills besides regular lessons in Language Laboratories for English language.
Remedial Classes
Remedial classes are organised on request for up to two subjects at a time.
Enrichment Classes
Special classes are held for 15 days in the winter vacations for students of classes X & XII.
Pastoral Care
he students live in Houses looked after by a Housemaster or Housemistress. There are also Assistant Housemasters /Mistresses, tutors, matrons and other support staff that look after children and monitor their physical, intellectual and emotional development. Prep is supervised and teachers assist students with homework and academic work.
The Daly College has five boys' Houses namely Ashok, Vikram and Rajendra for resident students while Jawahar and Tagore houses are for day boarders. However, students while belonging to the above Houses actually reside in age specific residences. For boys these are Malwa House, Holkar House and the three main Houses.
Similarly, there is one girls' residential House, Bharti House. Indira and Ahilya Houses cater to day scholars.
School actively promotes and conducts various Inter House competitions between the above Houses. The Boarding House coordinator is Mr. Dominic John.
Counseling Services
The School provides personalized Career Counseling and Students' Counseling Services for students' benefit. In addition, FOCUS is the centre for desired improvements in children with special abilities. DC has four full time Special Education Counselors for students with learning disabilities.
Pocket Money
Pocket money is fixed as per age groups. Private money and credit/debit accounts are not permitted. This is to ensure equality on campus.
Hospital
The college has a 30 bed hospital on campus. Dr. S. Maitra is the Chief Medical Officer, who is assisted by a resident gynecologist, four resident nursing sisters, a physiotherapist and para medical staff. There are empanelled specialists in Indore to who children are referred for specialized treatments.
Career Guidance
The school runs a professionally supported career counseling programme, both in groups and on a one-to-one basis. Parents are encouraged to become involved in this programme. We also have arrangements with professional Institutes for coaching our students for SAT and for entrance tests for NDA, Medical, IIT/ AIEEE (Engineering) Law School and CPT for C. A. course.
Educational / Adventure tours
These are organised each year during the Dussehra break and are optional. Foreign tours and exchanges with schools abroad are also organised in the vacations.
Outings
In addition to religious holidays as specified in the school calendar, students are allowed out on the second weekend of the month.
Travel Arrangements
The school makes travel arrangements to and from home as per guidelines available in the office. Escorts are provided and children travelling under private arrangements are seen off received at the airport / railway station. Parents are advised to check with "Important Notices" section on home page for the same.
Sports
The school is well recognised for its high sports standard especially in hockey, football, squash, basketball and cricket. There is a Tennis academy which utilizes 4 of the 9 courts. There are 8 squash courts, 9 basketball courts, 2 volleyball courts, a skating rink, a gymnasium, badminton, table tennis and chess. The 2 cricket green are of Ranji Trophy standard, there are 2 soccer pitches, 2 hockey pitches, an athletic complex with a 400m track, cross country, 3 swimming pools including a 50m pool, a 25 lane indoor shooting range, an outdoor shooting range and an obstacle course.
There are a total of 7 sports pavilions. The oldest Pavilion is the Scindia Cricket Pavilion built in 1910 and described by the sports correspondent of the London Times as the best in India during the MCC tour of 1933. The Bolia Fund and the Vikram- Rajadhyaksh Fund sponsor overseas coaches.
The Central India squash is held regularly at DC and the school hosts a tennis academy. Other games include football, volleyball, table tennis, karate, aerobics, gymnastics, skating, athletics, swimming, water polo and shooting. There are 49 physical training coaches assisting the students in various disciplines. Girls are emerging with strong teams in cricket, hockey, squash, basketball, athletics, swimming, football and shooting. Yoga is also offered.
Mr. Dharam Verma, Dean, Sports, is assisted by over 50 full time and part time sports instructors and coaches
IPSC & RS
As members of the IPSC and the Round Square International, children go all over India and abroad to mix, work and compete with children from other schools.
The Daly College is proud to be global member of the Round Square. RS is a not-profit charity registered in the UK. Currently Round Square works with more than a hundred member schools worldwide representing a student capacity in the region of 60,000 and a teacher/management workforce of around 5,000. It is students' centric in nature and organizes regional and international conferences, MUNs, workshops, exchanges and community services projects based upon IDEALS i.e. its six pillars of Internationalism, Democracy, Exchanges, Adventure, Leadership and Services. International exposure is an integral part of Round Square.
Cultural & Social Activities
A state of art hobby centre (CTDC) caters to the creative talent of the students. It has spacious and aesthetic facilities for Fine Arts, Sculpture, Pottery, Woodcraft, Photography, Electronics, Bamboo Craft, Needlework amongst still arts and Music, Dance and Dramatics and performing arts. There are over twenty-two teachers and instructors for art, sculpture, craft, music, band, dance, and choreography in the flagship of Mr. Ahmad Ansari, Dean Cultural Affairs. Woodwork, photography, dramatics, and quiz are equally popular. Children are involved in the publication of a magazine, newsletter and its supplements.
The Social Service League
The School students actively organise service works in the Helpage medical camps & schools for visually impaired children. They are also are made aware of the need to protect and sustain the environment. The school has its own paper recycling, rain water harvesting and water recycling schemes for the grounds and the gardens being regularly run under Green Club flagship.
Resource Centre
The Daly College has a Resource Centre open to DC teachers & students as well as schools of Indore and beyond. This is a not-profit service to the community that extends information links to learners' benefit. The centre regularly conducts training workshops for professional development.
Dhirubhai Ambani Auditorium
An air-conditioned auditorium, with a capacity to accommodate 1200 people, is one of the crowning glories of the school. Here the students make use of their creative abilities and various competitions and functions are organized from time to time. Assembly is held here on a daily basis.
The Kataria & Desai Lakes
Pond and Lakes are valuable natural resources. They add to the beauty of the landscape, provide recreation, and are habitats for fish and wildlife, an additional water source if needed. However, the good health of a pond is held in a delicate balance. A pond's condition deteriorates when the bottom environment cannot support animal life. The bottom is the area that runs out of oxygen first, it is where the most oxygen is used and it is the farthest from the surface where it is replenished. Without oxygen a lake or pond's self-purification capability is not only reduced, it is reversed. The small animals, snails, worms, bacteria, etc., which help keep a pond clean cannot live and the pond's nutrients are then recycled from the sediment. This forms a layer of muck at the bottom, which serves as a fertilizer for weed and excessive algae growth. It could also cause large fish kills.
Aeration means adding air to the water. To restore a lake to health, it is essential to get oxygen down to the lake bottom. Lake Bed Aeration not only adds oxygen to the surface water but to the water at the bottom of the lake as well. Once the lake is full of oxygen near the bottom, beneficial aquatic insect larvae and snails.
Catering
he school runs its own kitchen, dining hall bakery & cafe ensuring wholesome and tasty food. Menus are fixed in consultation with the students and a dietician. The menu is planned with care to ensure that the food is nutritious and balanced. Non-vegetarian food is prepared separately in the kitchen and the vegetarians are seated separately in the dining hall. The school has two dining halls with services for the senior and the junior students. The students' Mess Committee influences the planning of the menu. Mr. Deepak Nirula is our honorary consultant. Mr. Narsimham is the Mess Manager.
Sharing the campus with the school is the Daly College Business School. The DCBS is an integral part of the School making DC the only Public School to run a Business School, affiliated to a British University with an honours degree recognised in India and abroad. Students of DC, after Class XII, are offered preferential admission in the Business School.