Model United Nation (MUN)
"Education is the premise of progress, in every society, in every family." - Kofi Annan (once Secretary General of the United Nations)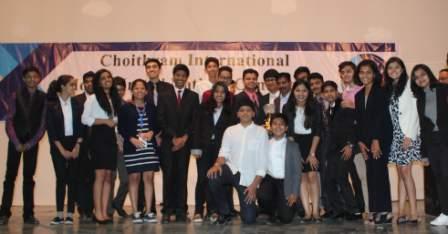 The year 2016 is a year of lot of happening. Many people might remember this year for Donald Trump getting elected as the President of the United States, many might remember it for BREXIT or demonetization, but we at the MUN Society remember this year for the achievements and height of success we reached in 2016. This year the MUN society has progressed a lot since last year.
Daly College Youth Parliament 2016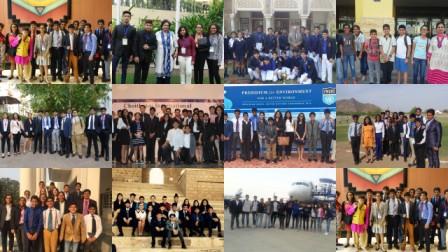 The school had some new experiences this year and the biggest example being the Daly College Youth Parliament, when our school hosted Central India's first Inter School Youth Parliament from 24th to 26th June 2016. It was a landmark conference and hosted 200 delegates from 17 different schools, which were from India and abroad. Seven vibrant committees were simulated in the conference, which included both Indian committees and the US Senate & House of Commons. It was a completely student run conference with Dalians as organizers and the executive boards. The theme of the conference was 'LUVENUS VIRTUTE' which means Youth Power. The conference was a huge success and has marked a new beginning, leaving an appreciable impact on everyone and especially the young delegates who have returned enriched, empowered and ready to bring about a change.
MUN Conferences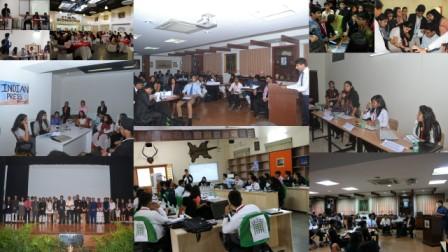 Our school won 2 best delegation awards this year, one at National Law Institue and University, Bhopal Model United Nations, where our students competed with college students and yet returned victorious; while the other at Choithram International Model United Nations where our delegates won awards in every committee. This year, 193 students of Daly College have attended 13 MUN Conferences namely
NLIUMUN at National Law Institute University, Bhopal – 13th and 14Th February 2016

MCGSMUN at Mayo College Girls' School, Ajmer – 14th to 17th April 2016

IHSMUN at Indian High School, Dubai – 28th to 30th April 2016

DCYP at Daly College, Indore – 24th to 26th June 2016

PMUN at Presidium School, Gurgaon – 12th to 14th August 2016

CMUN at Cathedral and Jon Connon School, Mumbai – 19th to 21st August 2016

DAIMUN at Dhirubhai Ambani International School, Mumbai – 20th to 23rd October 2016

TRINSMUN at Trivandrum International School, Trivandrum – 5th to 8th November 2016

CIMUN at Choithram International School, Indore – 10th to 12th November 2016

YPSMUN at Yadavindara Public School, Patiala – 12th to 14th November 2016

SCIMUN at Scindia School, Gwalior – 17th to 19th November, 2016

VHSMUN at Vivek High School, Chandigarh – 18th to 21st November, 2016

BSMUN at British School, Delhi – 7th to 9th December, 2016
This year also saw an increase in awards with 31 students winning awards from February 2016 to December 2016.
Award Winning students
Ankit Attri – Best delegate at NLIUMUN and CIMUN

Saharsh Choudhary – High Commendation at NLIUMUN and Special Mention at MCGS MUN

Arnav Mittal – Special Mention at NLIUMUN and DCYP

Pradyuman Chandhok – Special Mention at NLIUMUN and Verbal Mention at DCYP and BSMUN

Sana Hasija – Best Delegate at MCGSMUN and High Commendation at BSMUN

Shivam Mulchandani – Verbal Mention at MCGSMUN

Eshaan Anand – High Commendation at IHSMUN

Ayushman Choudhary – Best Delegate at DCYP

Anushka Rathore – Best Reporter(Delegate) at DCYP

Siddhant Parik – High Commendation at CIMUN and Special Mention at DCYP

Yajurva Shrotriya - Best Position Paper at PMUN

Rudra Saigal – High Commendation at YPSMUN, Special Mention at DCYP and Verbal Mention at CMUN

Gaurika Anand – Verbal Mention at DCYP

Yash Verma – Outstanding Delegate at TRINSMUN

Ishan Jain – Best Delegate at CIMUN

Nadia Sheikh – Best Delegate at CIMUN

Ashmi Jha – Best Delegate at CIMUN

Anushree Gupta – Outstanding Delegate at CIMUN

Vaibhav Parik – Outstanding Delegate at CIMUN

Mrigank Singh – Outstanding Delegate at CIMUN

Daksh Maru –Outstanding Delegate at CIMUN

Mohit Patwari - Outstanding Delegate at CIMUN

Rishabh Shrimal – Special Mention at CIMUN

Aishwarya Joshi – Special Mention at CIMUN

Mradul Goyal – Special Mention at CIMUN

Kushal Kothari – Special Mention at CIMUN

Chaitanya Singh – Verbal Mention at CIMUN

Anvesh Singh – High Commendation at YPSMUN

Arushi Jain – Verbal Mention at YPSMUN

Sia Phulambrikar – Verbal Mention at YPSMUN

Nicole McLowskey – Verbal Mention at YPSMUN
The MUN Club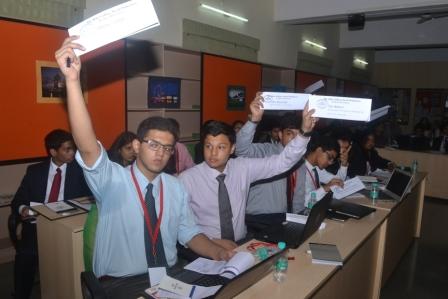 Today, MUN is becoming a very important activity in public schools, and thus, the MUN Society has been encouraging more and more children to take part in MUNs. Not only does it help in improving the young MUNners of Class 9 and 10, but also encouraging students from classes 7 and 8, to learn and to look at global problems and situations from a different perspective than what we are used to. It has invariably helped the students to think better and apply their minds to solve even their day to day problems, also adding to their knowledge kitty in turn making them confident young individuals who are ready to take on challenges.
The club has 125 members which is one of the largest clubs in the school. Every club day has a new planned activity which is more advanced for the seniors and basic for the juniors. We have activities like Nation Building; Security Dilemma; Position Paper Writing; Resolution writing; Mock Crisis Simulations, General Knowledge Quiz, Speaking Exercises. The members have had intense discussions on topics like Kashmir and the article 370, Burhan Wani and the uprising of militants in the Kashmir Valley, the Uri attacks and the Istanbul Attacks to name a few. The Club also found solutions for real time crises. This year at the club our delegates learnt ways and techniques to win awards in an MUN and the efforts definitely paid off as many students from the club won an award in a conference. We hope that we repeat our successes this year as well as the last year and do even better this year, because learning is a never ending process.
The MUN society has organized 2 workshops this year, which include workshops for training the new comers as well as the children who have been going to various conferences. The seniors have also taken various training sessions and have helped the students to understand difficult concepts, such as foreign policy, through various interesting activities.
It has been a good year for the MUN Society and we look forward to have more students being involved and becoming global thinkers.