The 13th Daly College Eye Camp
The 13th Daly College-Eye Camp in collaboration with Choithram Netralaya and FRS, India was organised at Hatod Village, Indore from December 17, 2018 to 18, 2018 and Kampel Village, Indore from December 20, 2018 to December 21, 2018. The camp provided free eye care services to those members of our society who are deprived of basic medical facilities and are lack awareness of the importance of eye care.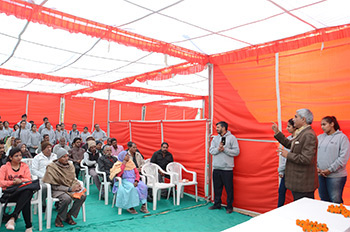 The team consisted of 28 Students, 5 teachers, 5 optometrists, 1 doctor and the support staff who all cooperated to make the eye camp a memorable one. The Eye Camp was completed successfully with 9729 registrations. 8605 patients were provided with spectacles. Patients could see better due to their corrected refractive vision and 304 patients were identified for cataract operation. All patients went home happily. It is not just doing eye checkups and distributing spectacles, it is the happiness and the smiles of all those individuals whose hearts were touched by the students. We are looking forward to continue serving people by making a difference in their lives in the years to come.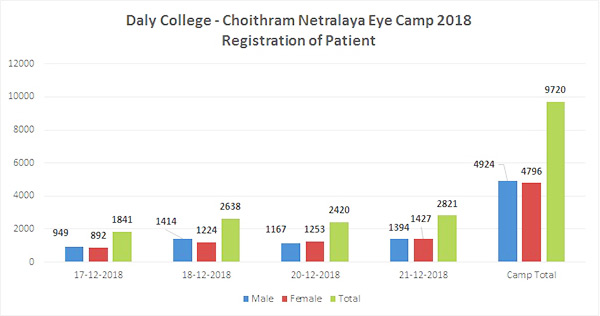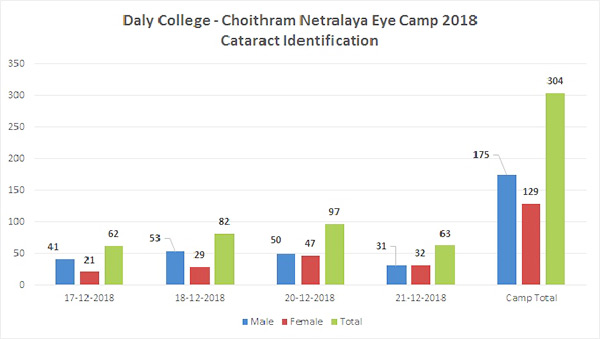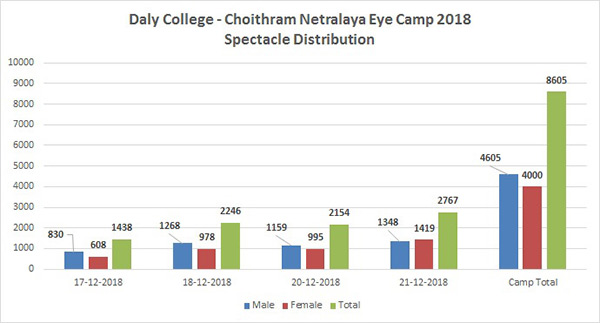 Why did Dalians decide to skip their holidays for Community Service?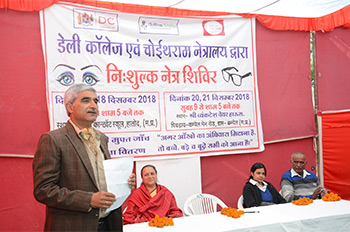 Gaurika Anand 11 CI:
We all have more than what we need and would ever use. Sharing is our responsibility, sharing with people who our content with what they have even when they don't have enough. Giving up 10 days of holiday for these people was no pain, rather was our pleasure to see those people smile when they could see the world with a new set of eyes. They in 10 days taught us the theory of satisfaction, so this wasn't us skipping holidays this was us gaining happiness and satisfaction from the smiles of others!
Divyanshi Nagda 11 B:
I personally feel that when I can see this beautiful world then they also should get a that chance to see this world and god has not just sent to care for our personal needs one should share and care for others too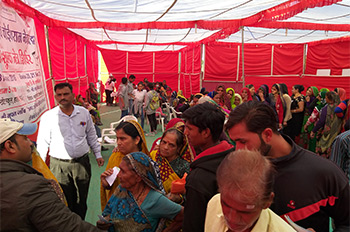 Mahika Vats 11 CI:
Skipping holidays was not even on our minds when we gave our interviews for this social work. There was such enthusiasm naturally amongst us for this concept of charity, that a mere fact for missing vacations was not important. When we talk about dedicating time for the right reasons, it actually helps us grow. And to put the icing on top, helping the people In major ways that change their 'sight' of life, is just amazing! I don't think we could have gotten anything better than the blessings, smiles, and the satisfaction of hearing 'humari ankhee ab Sab dekh sakti hain' - as a Christmas gift and a new year blessing. And like spending time with our family, we really cherished every second of the camp and our time spent with the folks we met. I would definitely skip my vacations again for this.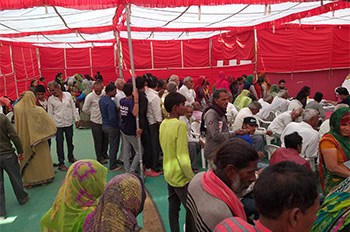 Vaibhavi Ranawat 11 B:
Making other people happy makes me happy. Every year I enjoy these holidays but helping someone is the biggest happiness that I've ever got . This camp inspired me and taught me many lessons which includes how to face world. I loved being surrounded by these people it gave me a satisfaction that people still believe us no matter what the circumstances are but still there was a door opened namely HOPE. Now we proved this right - One cant help everybody but everybody can help one. I'm happy that I contributed to this world to make them smile. Now I think my dreams came true(not completely)
Mahika Jain:
Our holidays couldn't have been utilised in a better way. Receiving that smile when they realised that they'll finally be able to clearly see the faces of their loved ones again was a feeling I'll never forget. This helped us gain experience and knowledge that a 6 pound book can never provide. Helping the community and helping the future generation actually see will only make the world a better place. Missing vacations wasn't on our mind when we talked to hundreds of people and gained a new perspective. Helping them see clearly actually helped us see our community better.