Junior School Byte Detail
English Story Telling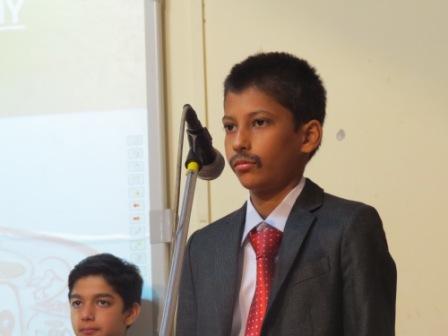 The students of class V and VI, brimming with confidence and enthusiasm, were geared up with colourful costumes and props to begin with the English Story Telling Activity.
Class V had two stories- 'Pandora's Box' and 'Peter Pan'. Pandora's Box was a story from the Greek mythology about a beautiful girl who opens a forbidden box and out come all the evils of life like death, sickness, disease and pain. But the story ends with 'Hope' who follows all these evils, giving true meaning to life. This was followed by the adventures of Peter Pan and how he loses his shadow, th
e lost children and also fights Captain Hook the pirate.
Class VI had two stories too with beautiful messages for everyone. Their first story was 'School of Sympathy'. This unique school prepared its pupils to face life with love, affection, care and empathy for all. Their second story was really heart-touching. 'Mother's Love' brought tears in every eye. It was a story of a young boy, who loses his mother. He later finds mother's love and compassion in a teacher. How he becomes successful and remembers his teacher, filled our hearts with fondness.